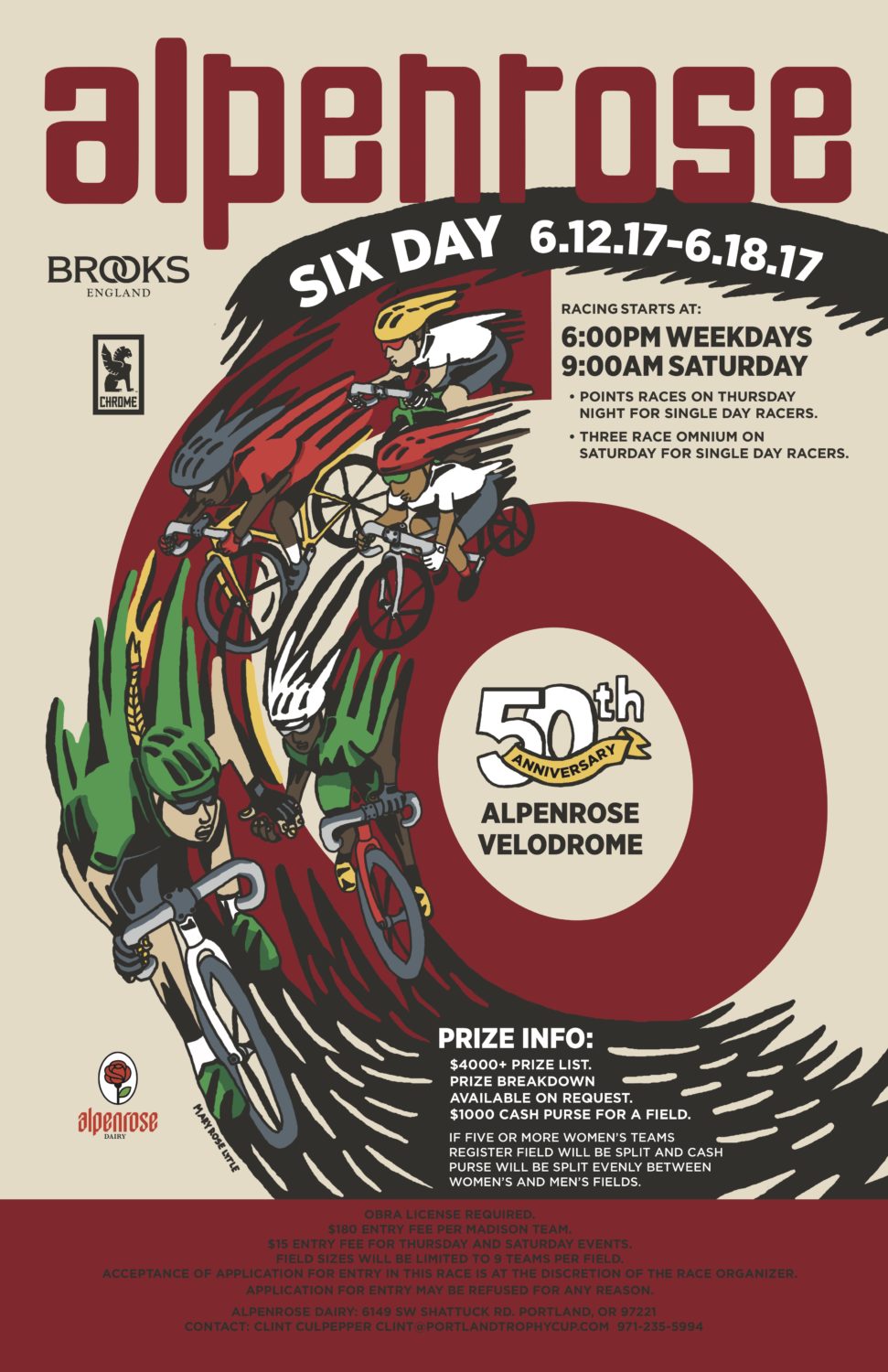 June 12-17, 2017
The Alpenrose Six Day is North America's only Six Day and the premier Madison event at Alpenrose.
$4000+ PRIZE LIST
Prize breakdown available on request or at the velodrome
$1000 cash purse for A field
If five or more women team register cash will be split between women's and men's fields
FIELD SIZE LIMITS
Field sizes will be limited to 9 teams per field
Teams will be qualified into separate fields based on category and results in Madison Pursuit on day one
---
 REGISTRATION
Registration is $9o/Madison rider ($180/team)
Online registration is available until Sunday, June 11 at 10pm
Onsite registration is available at the velodrome until Monday, June 12 at 5:00pm
Registration for Thursday and Saturday single day races will be onsite only ($15/rider)
---
 EVENT SCHEDULE
Racing starts 6:00pm Weekdays, 9:00am Saturday
Monday
12 Lap Madison Pursuit
Madison
Tuesday
2 Individual Races
Madison
Wednesday
2 Individual Races
Madison
Thursday
Six Day Riders
Scratch Race
Win & Out
Madison
Single Day Riders
Points races
Friday
2 Individual Races
Madison
Saturday
Six Day Riders
2 Individual Races
Madison
Single Day Riders
Omnium
---
SIX DAY RULES
Overall winner determined by cumulative laps and points for all racing
Points and laps won or lost by riders in individual events will be added to team total
Daily prize determined by total team points and laps for that day
Daily prizes will be awarded at the beginning of the next day's racing
Team riders must wear similar jerseys
Teams may be excluded from racing at the official's discretion at any point
ACCEPTANCE OF APPLICATION FOR ENTRY IN THIS RACE IS AT THE DISCRETION OF THE RACE ORGANIZER. APPLICATION FOR ENTRY MAY BE REFUSED FOR ANY REASON. 
OBRA membership is required. 
OBRA single event membership may be purchased at the race for $5
Held under OBRA race rules
Racing canceled in the event of rain
---
DIRECTIONS
6149 SW Shattuck Rd, Portland, OR 97221
---
CONTACT INFORMATION
Clint Culpepper – clint@portlandtrophycup.com
(971) 235-5994